Sometimes Mother Nature overtakes the reading road as it did last week. Hurricane Isaac arrived on the seventh anniversary of Katrina. We no longer say "Hurricane Katrina" because she is famous enough to be known by one name. Once again, we had to decide whether to outrun a powerful weather event, or hunker down. "The sky is falling, the sky is falling!" I couldn't shake the refrain from that old nursery story, Chicken Little. We heard it everywhere because we, along with countless others along our Gulf Coast, had lived through the utter devastation of Katrina. For those who may not be acquainted with this tale, Chicken Little got bopped on the head with an acorn, and started a comical chain of events. Everyone he met heard his extreme warning, "The sky is falling, the sky is falling!"Jim and I busied ourselves with preparations while keeping an ear to announcements of coordinates, tropical development, and water temperature. We knew what was coming.
Every creature in the path of the 30-odd feet of rolling wave as Katrina made landfall has his own sensory and emotional memories of all that happened on August 29, 2005. Most of us have photos which can only begin to show the dimensions of Katrina's effects. So many words have been put to paper that I have chosen to wait, to think deeply about it from the perspective of time elapsed. Now that we have felt the fear again, I can talk of it in relation to the way it is part of all nature rather than an isolated incident. A hurricane isn't one malevolent tree in a dark fantasy forest; it's one force of an entirety which drives the forest and all other systems around our planet.
The world's cycles were here before us. They continue to prove that they are more powerful than all our advances. They catch us unaware, though we have the intelligence to expect them, put them into perspective. All the aspects of our lives that we treasure bow before the forces of nature. A hurricane is simply one way to know that we are not in control. Love and loss, joy and grief; these wax and wane throughout our years. The moments between the raindrops are triumphs, sparkling in their fleeting intensity. They remain in our subconscious alongside the terror. We store them, but sometimes forget to call them up when we are faced with another unknown. A hurricane is a time to remember, to listen, to see and feel more than what is obvious.
Certain Indians are known to have burned all their belongings every few years so that they would not become dependent upon material possessions. Hurricanes sometimes rid us of ours, because none of us would have the courage of the Indians. Of course, Indians didn't have computers and TV's and iPhones and, especially, all the photos which hold the faces we love and our best days. We assign such value to our possessions that we are forever in their service, often failing to live fully in each day. I know this, but am guilty.
I try to be thankful for the things I cannot control. They usually are things which make me realize how human I am, and how I would tremble to have complete control. I can see that there would be no right decision for all, and the weight of responsibility would seem unbearable. The best we can do is protect those within our reach, those we love, and those who need understanding. This example of forbearance is present in all of nature, so all we have to do is pay attention. When the howling, assaulting wind finally quieted on Isaac's third day, and the rain became a silent silver sheet across the landscape, I looked up to see a lone seabird winging across the gray ceiling outside. It probably followed water farther inland than usual because of Isaac's tumult. The bird was headed south toward the beach, so one more mile would offer it a more familiar place. Things would begin to look more as they had the week before.
And so the sky is not really falling, all you Chicken Littles. All signs of approaching autumn are murmuring that the annual cycle is undisturbed. Migrating hummingbirds zoomed through the heaviest downpours of the hurricane to circle the end of the back porch where their feeder, full of nectar, had hung. As soon as I was able to re-hang it from a climbing rose branch, their staccato chirps were in my ears. The Duranta, now more tree than shrub, dripping lavender flower clusters and golden berries, is host to a few dozen bumblebee drones – male bees banished from the colony once their job of fertilizing the young future queens is done. Now they fly and feed until they soon die. The female worker bees have died, and those fed, fattened and chosen to become new queens have searched under leaves and quiet sheltered places to hibernate until next spring. We hope that hurricane season is having its last hurrah of 2012. The moon is full, the silent drama is performed; the sky is not falling. It is full of stars.
********************************************************************************************************************
Snapshots two days post-Katrina from our golf cart: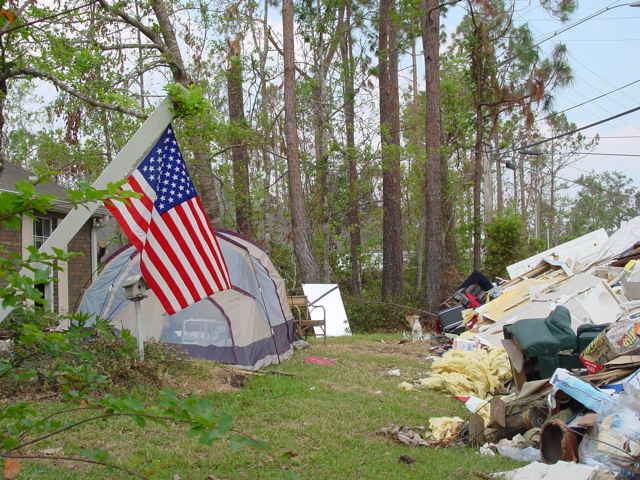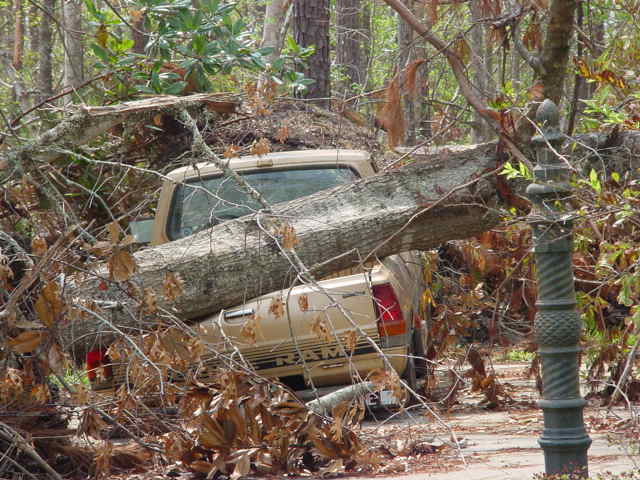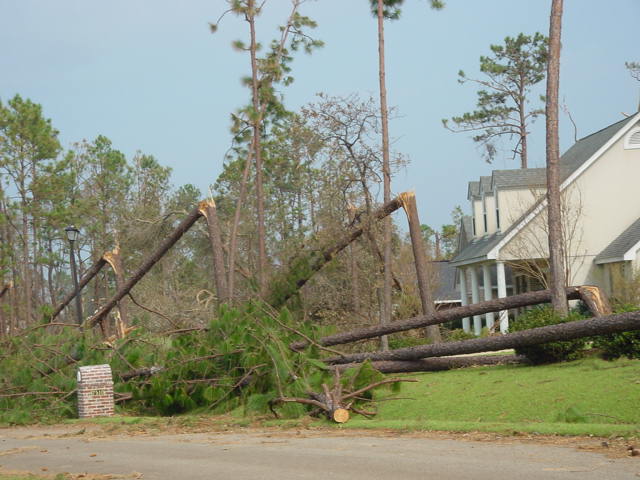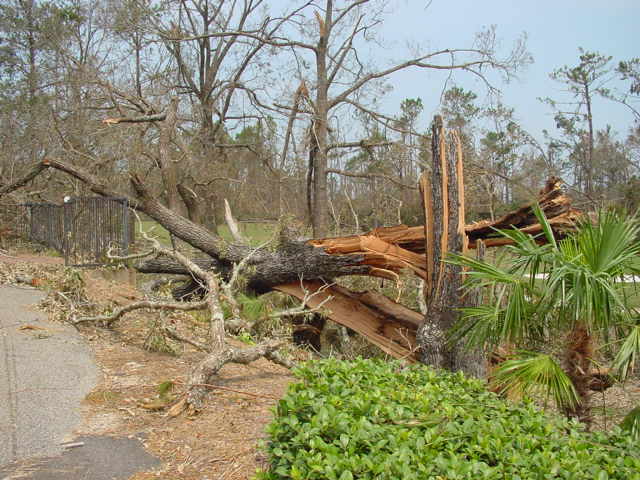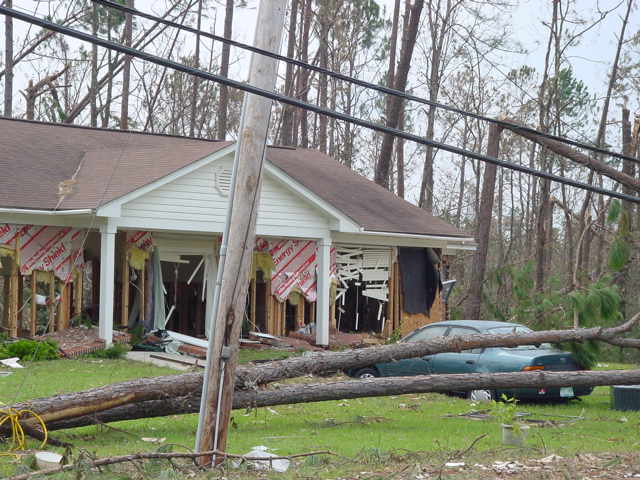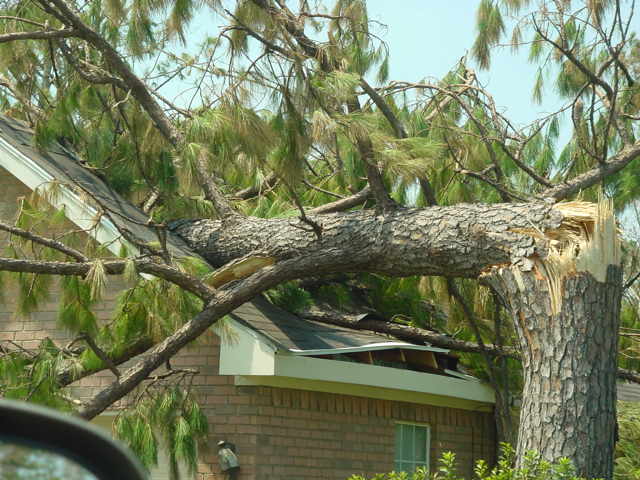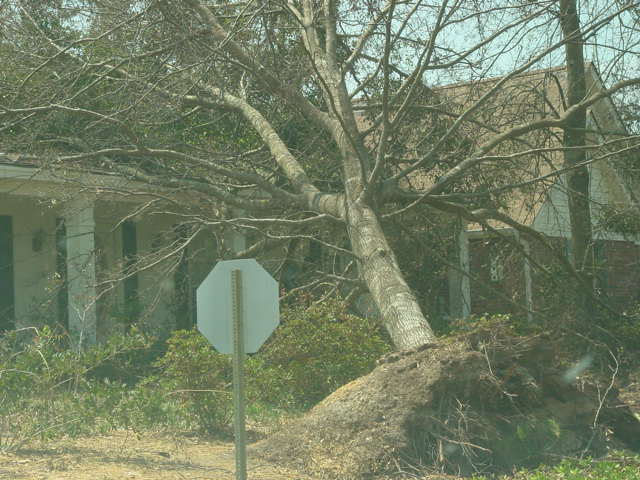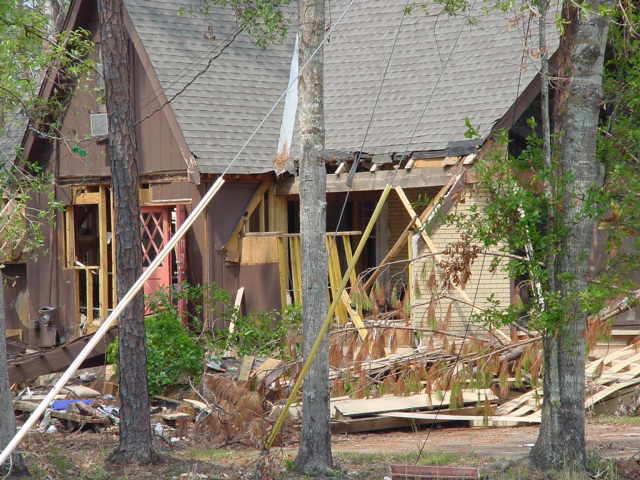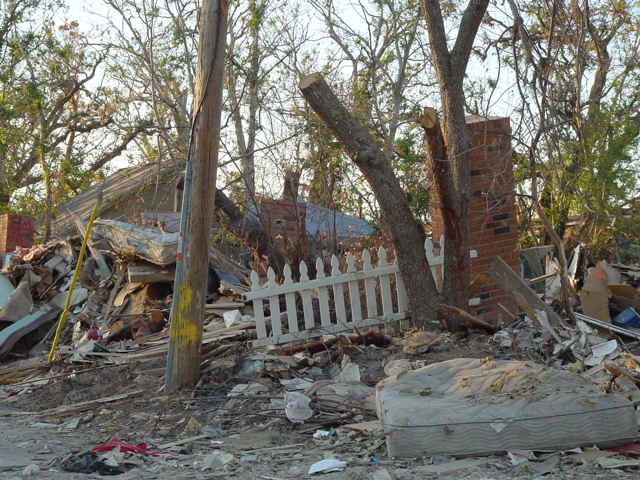 A video clip of Isaac's third day should appear as soon as I can complete edits.